Greywater Diverter Valve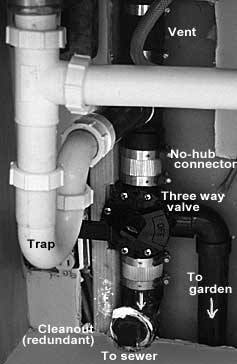 Greywater diverter valves are often utilized as central components of multiple-branched greywater systems. Through these greywater diverter valves waste water from baths, showers and washing machines is dispersed into the landscape for purposes of irrigation or is stored for reuse either within the home for flushing toilets or use in the garden.
Laundry to Landscape
The term Laundry to Landscape has been coined to convey the simple message that it is very possible, and in most cases quite easy, to divert water from showers and washing machines to simple or complex landscape irrigation systems. In almost all cases a greywater diverter valve is used.
While there are no solutions that apply universally to greywater systems, there are a variety of approaches and patterns which can be applied to generate the optimum solution for any need in any context. Standards are beginning to emerge now and technology is making greywater reuse easier and more effective.
Installation
Most greywater diverter valves are installed and used inside the home, but they may also be fitted to pipes outside the home just before the drainage pipe meets the main sewerage pipe.
Outside installation is a viable solution, however it isn't very practical in today's world where greywater can be either "clean" or "dirty" within just a moment. Having the "switch" located outside of the home means that it cannot be accessed "real time" at the moment when water changes from clean greywater to dirty greywater.
For residential applications, having the greywater diverter valve installed within the home makes the most sense.
Types of Valves and Valve Operation
Most greywater diverter valves are "3-way" valves made of PVC or brass with one "way" for intake and 2 "ways" for outflow – one to the sewer system and one to either a storage tank or to a drip irrigation system. A switch allows the greywater to flow to one or the other outflow.
Manual greywater diverter valves use manually operated switches to channel the greywater being diverted to the desired location. These devices are adequate but are simply not as convenient or easy to use as the remote controlled diverters.
Remote controlled greywater diverter valves use an electronic switch located away from the valve to divert residential greywater to the desired location.
One greywater diverter valve that stands apart from the competition in terms of ease of use and advanced technology is the GreenSmart Greywater Diverter.  With this diverter, the user simply presses a button on a small remote control unit located on the wall near the shower or clothes washer in order to divert the flow of "clean" greywater from the sewer into a drip irrigation system or a storage tank. When non-biodegradeable products such as hair color are used, the resulting "dirty" greywater can be diverted to the sewer with another touch of the same button.
This GreenSmart greywater diverter valve is so easy to use that it can be activated by users of just about any age as well as the disabled. It is unique in the sense that it is the only greywater diverter valve that can be activated exactly where and when the water is being used, whether that be the shower, the bathtub or the washing machine.
IAPMO and UPC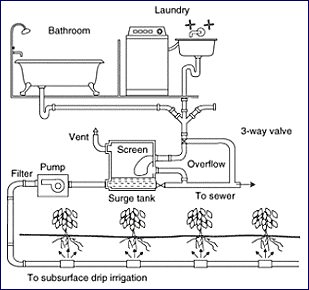 The Greensmart Greywater Diverter valve is also the only remote controlled greywater diverter valve that meets the new standards for such valves as published by IAPMO PS 59-2013 and by the Uniform Plumbing Code. It comes with an important "fail safe" feature in the form of a built-in battery and actuator that can automatically redirect all water flow to the sewer system in the case of a power failure.
This product is available for purchase at the GreenSmart company website for a price of $456. Or it may be purchased through plumbing supply stores such as Ferguson's in the western United States.
The GreenSmart Greywater Diverter valve carries a 3-year, limited warranty.
Try this website for getting more information related to  Greywater Diverter Systems.
Related Articles:  Greywater Diverter Systems, Greywater Recycling, Greywater Systems.